You are here:
Home
> Projects -
Commercial
Projects
SW Bruce has completed hundreds of projects since the company's inception in 1945. To give you an overview of our work across all services and sectors we have created a library of project profiles.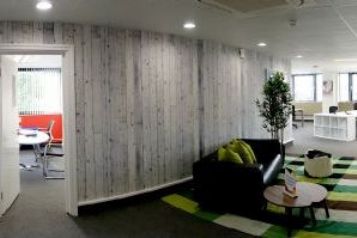 Conversion of disused office space to accommodation for business accelerator hub.
Entrepreneurial Spark/Royal Bank of Scotland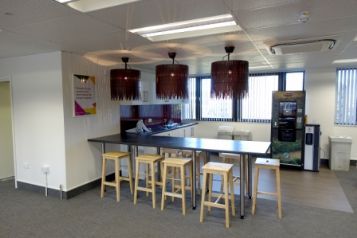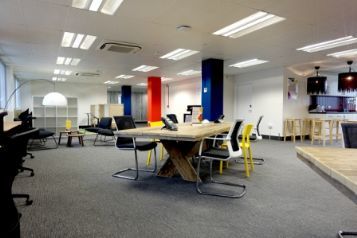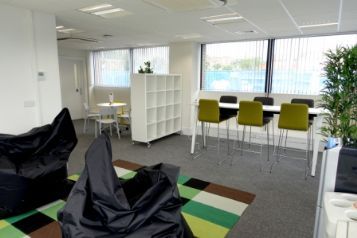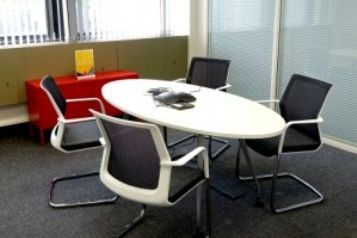 E-Spark, Brighton
Founded by entrepreneurs, Entrepreneurial Spark (E-Spark) and the RBS Group (NatWest, Royal Bank of Scotland and Ulster Bank) are working in partnership to step up their support for thousands of entrepreneurs and high growth businesses, enabling a network of business accelerator hubs to be delivered throughout the UK.

NatWest and RBS are supporting the venture by opening up their premises to provide desk and meeting space, IT, mentoring and support.

Two floors of the RBS business centre at 149 Preston Road, Brighton, were made available to accommodate this South-Eastern branch of the venture.

Design started in February 2015, with SW Bruce working together with the RBS design team to realise the E-Spark scheme.

Both floors were totally rewired and new distribution boards installed to meet current regulations. Lighting was modified to suit the new layout and design scheme. Existing toilets were refurbished, complete with a new Integrated Plumbing System. Suspended ceilings were repaired and resprayed, new carpets fitted, a new kitchen area installed and redecorations carried out throughout.

Contemporary furniture, from a range of suppliers including IKEA, was installed to complement the fresh and stimulating design. Image rights of an inspirational forest scene were purchased and specialist photo-wallpaper was commissioned, produced and installed to fit the precise partition space.

The 5th floor was configured as a flexible area to accommodate events, presentation facilities and video conferencing, complete with a large projection screen mounted on the rear wall of the space.

Projects
Related News
View our
brochure
on-line