You are here:
Home
> Projects -
Healthcare
Projects
SW Bruce has completed hundreds of projects since the company's inception in 1945. To give you an overview of our work across all services and sectors we have created a library of project profiles.
Refurbishment of Dementia Ward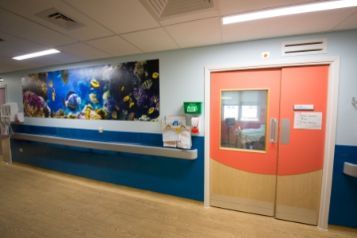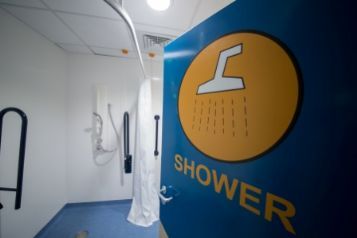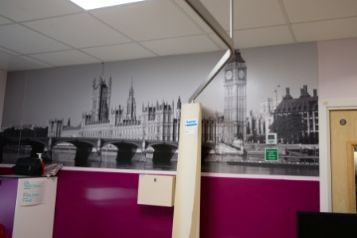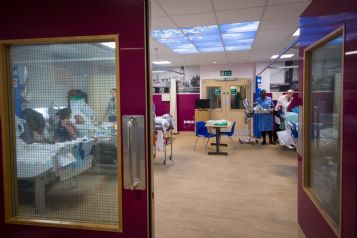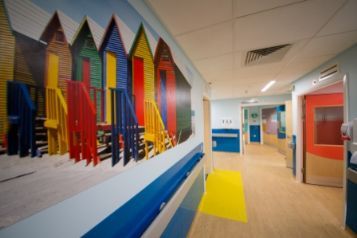 Barnet Hospital - Larch Ward
The refurbishment of this existing Dementia Ward was undertaken not only to refresh the general environment, but also to introduce a more supportive design solution for patients with dementia.

The works, carried out in four phases, incorporated the provision of new floor and wall finishes to the toilet and shower areas using hygienic anti-bacterial wall cladding, new sanitary ware, new floor finishes to the wards and corridor using Altro safety flooring,

redecorations throughout, new light fittings including LED skylight panels, and a new patient monitoring system with large TV display installed at the nurse station.

Recent research evidence has shown that the design of physical surroundings can help significantly in compensating for sensory loss. To provide a reassuring environment, we employed these findings by decluttering the ward, providing signage incorporating large clear images and text to the toilets and bathrooms, and by using bold accent colours chosen for contrast to distinguish the bed bays.

The corridors and bed bays were also brightened up to aid recognition by installing large digital images of familiar and comforting scenes such as a London bus, a beach scene and a country landscape.

Wood effect safety flooring was laid throughout the ward to make it feel more homely and less clinical.

An improved lighting scheme was installed, incorporating an innovative new design from the USA which integrated a bright LED lit picture of a skylight within the ceiling tiles.

To meet the cost saving requirements of the project, we overlaid existing doors with new vinyl instead of replacing old doors with new. We also rescheduled the project phasing to refurbish two identical rooms in sequence, thereby making both material and time savings.

Projects
Related News
View our
brochure
on-line